Home Furnishings – Corporate Housing Solutions For International Transfers! (Part 2 of 3)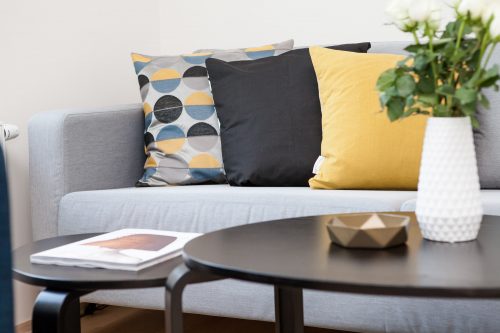 In our first article on corporate housing services provided by FREA, we covered the initial housing search process for an incoming international transferee.  Next, let's look at how our relocation package prepares a stress-free and hassle-free furnished home on arrival.
The Shortage Of Furnished Apartments Desired By Expats In Japan
Leasing of Furnishings With English Support Made Available
Customized, Tailored Lease Contracts
Pre-Move-in Preparations: Detailed Measurements
Housing & Furnishings Fully Coordinated Prior to Arrival
The Big Move-In Day
The Shortage Of Furnished Apartments Desired By Expats In Japan
Furnished homes are highly desirable for many foreigners arriving from overseas, especially those who anticipate only residing in Japan for short periods of a year or less. 
However, the vast majority of Japanese properties come completely empty and devoid of even core appliances like washers and refrigerators, and it is considered standard for tenants to provide their own. 
Ownership of cars is uncommon in Tokyo, making furniture and large appliances difficult to transport out of residences on move-out.  English language support is also rare for furniture lease providers and even many Japanese home goods companies, reducing easily accessible options.
Furnished housing in the form of upscale serviced apartments indeed exist, but the selection is limited and pricing for even smaller studio units frequently exceeds housing budgets.
Leasing of Furnishings With English Support Made Available
In response to this largely unfilled need, FREA currently offers the coordination of customizable leasing plans for home furnishings, which are provided by established, highly reputable leasing services in Japan. 
Prices include delivery, assembly/installation and disposal fees—eliminating the burden of handling bulky furniture—and also insurance for peace of mind.
Leasing prices are scaled in accordance to the contracted length, making long-term leases where a company anticipates continuing to furnish an employee apartment incredibly cost-effective (should corporate apartment leases change, the existing furnishings can be moved to the new location).
For shorter stays of a year or less, these leases are also attractive for the sheer convenience of having furniture needs taken care of on both arrival and departure.
Customized, Tailored Lease Contracts
Furnishing Leases are available as prepackaged sets while also being customizable down to each individual piece.  The capacity of items such as refrigerators, washing machines and sofas are also arranged to meet each individual client's lifestyle needs.
Furnishing needs and wishes were discussed with the client directly during the viewings and assessed for budget viability (eliminating the need for a separate meeting).  In this case, an existing corporate furniture lease had already been in place for a few years, but still allowed for some annual adjustments to the contents.  The incoming employee expressed a desire to upgrade to a larger-sized bed, which we took into consideration when examining the floorplans of potentially viewable units.