Yokohama-Bound: A Housing Area Guide For Commuters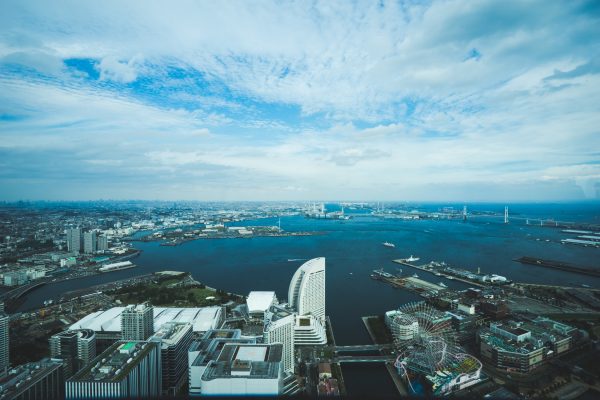 Many of our housing clients are seeking housing in Japan for the first time.  With so many train lines and neighborhoods, it can be overwhelming trying to identify where to begin searching. 
At FREA, where we specialize in corporate housing assistance, we typically begin by mapping out convenient commuting routes to each client's workplace.  But while these can be looked up online, the residential attributes of each area—which also have a huge lifestyle impact—are not as immediately accessible.
Below, we have handpicked six different areas along train lines with direct Yokohama access—located either in Yokohama proper, nearly central Tokyo or somewhere in between.  Each neighborhood brings its own defining characteristics and a resulting range of pros/cons, which we have highlighted for easy comparison. 
Areas are listed in geographical order from nearest to Yokohama station and then move northwards towards Tokyo. 
Yokohama's Minato Mirai Line – Stylish Coastal City Living
Kikuna – A Quiet Pocket of Kanagawa
Kawasaki – An Urban Center Transformed
Hiyoshi – Bustling College Town
Jiyugaoka – Charming, Quaint & Just Outside Central Tokyo
Oimachi & Omori – Lively City Suburban Life
In Closing
Yokohama's Minato Mirai Line – Stylish Coastal City Living
Train Line(s): Minato Mirai Line
From Yokohama station, the Minato Mirai line continues south for several more stops along the bay. Neighborhoods by these stations make up the newer, more modern part of Yokohama, with a thriving waterfront scene that is popular with young professionals and new families.  There are a multitude of attractions and shopping malls to enjoy here, including Yamashita Park which offers a refreshing stretch of beautiful gardens paired with views of the coast.  Japan's largest (and shockingly clean) Chinatown can be found right by Motomachi-Chukagai station. 
As this area is popular with locals and tourists alike, keep in mind that weekends can often be crowded! For those interested in the fabulous location but less keen on the crowds, Bashamichi station may be preferable as it has few notable attractions directly nearby which makes it noticeably less congested than the other stations.
Ideal if you are looking for: A location in the heart of Yokohama with a clean, safe neighborhood and an engaging variety of shops & restaurants
Avoid if: You dislike living in an area with lots of visitors, or if you prefer to be located closer to Tokyo
Kikuna – A Quiet Pocket of Kanagawa
Train Line(s): Tokyu Toyoko Line
Near the tail end of the Tokyu Toyoko Line (which often continues on directly into the Minato Mirai Line) is Kikuna.  One of many humble commuter neighborhoods in the area, Kikuna itself isn't really all that notable, but it stands out for its combination of Limited Express train access (only 1 stop from Yokohama station!) and favorable rent prices.  Being further from Tokyo means more space for homes, and also means everything else is slightly more spread out—it is more common for residents to own cars here than the more central neighborhoods.
For those looking to really maximize their apartment space, the nearby local stops leading towards Yokohama (such as Hakusan station) have even lower market pricing.  We recommend balancing out the local train commute times with a close walking distance from your nearest station. Like Kikuna, these areas will have a small variety of stores around the station before transitioning into almost exclusively residential areas.
Ideal if you are looking for: A comfortable residential area with express train access at attractive rent prices
Avoid if: You want more "things to do" in your immediate neighborhood, and prefer to have everything within a very close walking distance
Kawasaki – An Urban Center Transformed
Train Line(s): JR Keihin Tohoku, Tokaido & Nambu Lines; Keikyu Line
Known as the primary industrial center of Japan, Kawasaki has perhaps carried a less glamorous image compared to some of its neighboring areas, but it offers the sheer convenience and variety available only in major metropolitan areas.  Multiple express lines run through the station, which in recent years has come to be surrounded by multiple large, upscale shopping mall complexes.  
The eastern portion of Kawasaki also boasts a Costco store location for imported American goods.
Ideal if you are looking for: Great access to both Tokyo & Yokohama in an urban environment
Avoid if: You feel more at ease in a suburban neighborhood with lots of greenery nearby
Hiyoshi – Bustling College Town
Train Line(s): Tokyu Toyoko & Meguro Lines, Yokohama Green Line
Hiyoshi sits just on the edge of Kanagawa, and offers affordable housing prices at a nice midway location with good access to both Tokyo and Yokohama.  Home to the prestigious Keio University, this area is heavily populated by university students, giving the overall neighborhood a youthful and admittedly, boisterous feel that persists into the evening. 
The Hiyoshi area is fairly suburban with lots of trees in the residential neighborhoods.  A wide variety of food options such as izakaya (casual Japanese bar & tapas establishments) and popular chain restaurants line the streets surrounding the station.
Ideal if you are looking for: A convenient area roughly at the halfway point between Tokyo & Yokohama
Avoid if: You are looking for an overall quieter area, and/or you prefer to be in a more central location
Jiyugaoka – Charming, Quaint & Just Outside Central Tokyo
Train Line(s):Tokyu Toyoko & Oimachi Lines
Commonly referred to as "Little Europe" in Tokyo, Jiyugaoka is a classy and somewhat upscale residential neighborhood.  Both sides of the station are lined with little shopping alleys filled with an assortment of cafes, dessert specialty stores and clothing boutiques.  The decidedly stylish yet relaxed atmosphere paired with convenient express train access make Jiyugaoka a popular choice with many expats.
Jiyugaoka is located within Setagaya-ku, Tokyo's second largest ward which prides itself on being highly family-oriented, so you can expect a peaceful lifestyle with many nearby parks to enjoy.  The influx of visitor traffic on weekends is also significantly less than other more touristy areas of Tokyo and Yokohama.
Ideal if you are looking for: Express access into both Yokohama & Central Tokyo, and a multitude of local restaurants to choose from
Avoid if: You want more major store offerings immediately nearby, and/or you prefer to be closer to Yokohama
Oimachi & Omori – Lively City Suburban Life
Train Line(s): JR Keihin Tohoku Line
(for Oimachi only: Tokyu Oimachi Line, Rinkai Line)
Just 1-2 stops from major Tokyo hub station Shinagawa are the Oimachi and Omori areas.  The JR Keihin Tohoku Line offers express access into Yokohama station, and as the bulk of rush hour traffic is headed into central Tokyo morning commutes should remain manageable.  Oimachi station in particular also offers the Rinkai subway line for easily visiting Odaiba—Tokyo's popular waterfront shopping & dining area. 
But these two stations aren't only ideal for access—they're both extremely convenient neighborhoods to live in, too.  Major supermarkets, the 100-yen chain DAISO, and multi-floor shopping plazas attached directly to the station can be found in both areas.  And although these areas are more densely populated than previously mentioned spots Jiyugaoka and Kikuna,  they quiet down considerably at nighttime.
Ideal if you are looking for: Great access all around Tokyo, and lifestyle necessities clustered closely around the station
Avoid if: A larger apartment space is one of your main priorities, and/or you prefer to be closer to Yokohama
In Closing
We hope that this list of varied locations helps first-timers to Japan to be able to better narrow down their housing search.  There is no single one-location-fits-all answer to "Where should I move to?" for the individual anticipating work in Yokohama—future residents should instead consider their own personal priorities and preferences and proceed accordingly.