FREA at Hacker news Tokyo Meet up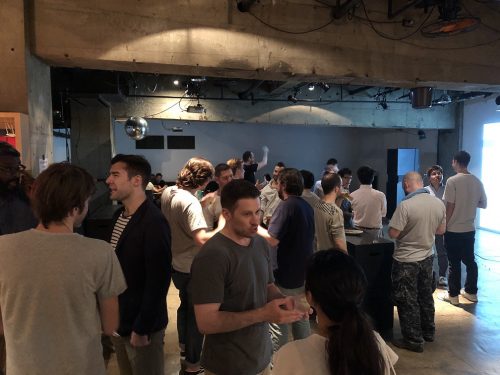 FREA attended an international business meetup event on Thursday, June 14th, hosted by Hacker News Tokyo!  Held in Super Deluxe, an industrially-styled underground venue in the heart of Roppongi, the event offered a casual yet energized environment in which to mingle, network, share upcoming projects and discuss recent tech developments.  Attendance to the event also included two drinks and a few rounds of light snacks.
 Midway during the evening, event organizers called for attendees to gather and kicked off an Announcements portion, allowing individuals to come up and make short, informal speeches pitching their current projects and outreach for collaborations they were seeking to the rest of the audience.  The attendees were comprised of a wide variety individuals hailing from all over the world as well as a number of internationally-minded Japanese, with a healthy mix of both first-timers and returning attendees. 
 We were struck by the consistency with which all attendees (Japanese or foreign) presented their ideas in English, with English also being the predominant language for the vast majority interactions taking place in the space throughout the evening.  
 Although the attendance for the event represents only a tiny sliver of the business venture scene in Japan, we felt that it perhaps foreshadows a more global mindset in the future Japan market, which the country has been gradually shifting towards in recent years..
 FREA is very glad to have been able to have the opportunity to attend the Hacker News Tokyo meetup and speak with such a diverse range of individuals.  Once again we have clearly heard the need for more substantial and readily accessible business support services for foreigners in Japan, and are more motivated than ever to continue improving our foreigner entrepreneur support program.